Step in Style With the Latest Ankle Tattoo Ideas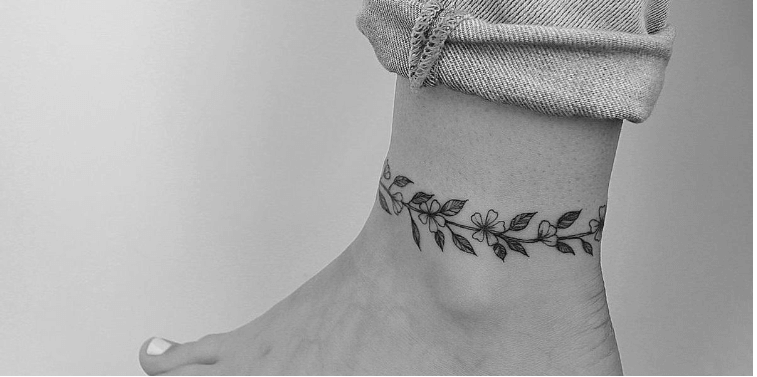 Ankle tattoos are a stylish and feminine way for women to express themselves. The ankle area provides a small, delicate canvas that is perfect for intricate ankle tattoo ideas and thin lines. From dainty flowers to striking words and phrases, ankle tattoos allow women to make a subtle yet meaningful statement. When crafted by a talented tattoo artist, ankle tats can be an incredibly beautiful accent for women. 
Floral Ankle Tattoos
One of the most popular ankle tattoo ideas for women are delicate floral patterns. Flowers like roses, cherry blossoms, lilies, and lotuses provide beautiful imagery that suits the slender shape of the ankle. These floral tats are often done in black ink or in a style that features meticulous line work and detail. The result is a floral ankle tattoo that looks like a miniature work of art on the skin. Since ankles are prone to faster fading, it's best to avoid vibrant colors and stick to black ink for floral ankle tattoo ideas.
Butterflies and Birds
Butterfly and bird designs are another excellent choice for ankle tattoo ideas. Butterflies represent transformation, new beginnings, and freedom. Their vivid wingspans provide ample opportunity for creative color combinations. 
Butterfly ankle tats often feature just one large butterfly or a trailing vine of multiple butterflies around the ankle. For a more minimalist vibe, you can get a simple black butterfly outline. Birds like doves and sparrows are also popular ankle tattoo ideas as they depict freedom, travel, and a whimsical nature. Delicate bird anklets look similar to stylish henna designs. 
Stars and Constellations
For women who love astronomy or want an ankle tattoo with symbolic meaning, stars make a great ankle tattoo choice. Tiny stars speckling the ankle or a trail of stars circling around are simple but pretty ankle tattoo ideas. Some women get small constellations, like the Big Dipper or Little Dipper, marked on their ankle. Zodiac signs like Aquarius or Virgo are also fitting star anklet tattoos for astrology lovers. No matter what star-based design you choose, these anklets represent guidance, hope, and overcoming difficulties.
Words and Phrases
Script tattoos of meaningful words and phrases are popular ankle tattoo ideas for the ankles. Short words like "Hope", "Faith", "Courage" or "Wisdom" send a powerful message in a small area when inked in a thin, clean font. Phrases can also be wrapped elegantly around the slender ankle area. Uplifting phrases like "She believed she could, so she did" and "Nevertheless, she persisted" are inspirational options. Song lyrics, Bible verses, and famous quotes also make lovely ankle word tattoos. This style is perfect for women who want a tattoo with deep personal meaning.
Roman Numerals
For women who want a simple, minimalist anklet, Roman numeral tattoos are just the thing. Roman numerals representing a birthday, anniversary or lucky number take up little space while holding sentimental value. Many women get the numerals of their wedding date or their children's birth dates tattooed in small Roman numerals on their ankle. The numbers can be placed in a straight line or creatively stacked. Roman numeral anklets are especially easy to conceal if needed.  
Hearts and Bows
Cute and feminine, heart and bow tattoos are darling choices for the ankle area. Small heart outlines, infinity hearts, and heart tattoos with initials in the center embody love. Sacred hearts and anatomically correct hearts are also popular ankle tattoo ideas. For women who want an even more delicate accent, a bow anklet provides the perfect feminine touch. Bow tattoos look like ribbon wrapped around the ankle. They convey notions of beauty and being a gift to the world. Tiny charms can also be added to bow tattoos, like a key and lock charm for a best friend anklet.
Ankle Bracelet Tattoos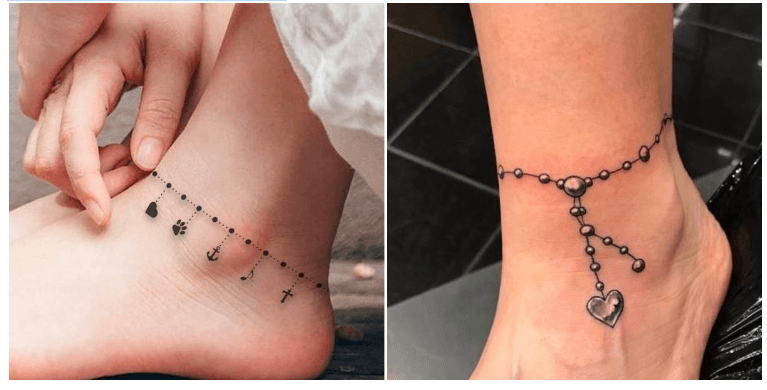 Women looking for a fresh alternative to permanent tattoo ankle tattoo ideas are getting ankle bracelet tattoos. These tattoos mimic stylish ankle jewelry like charm bracelets. They incorporate different charms like hearts, stars and crescent moons that are linked together on the ankle. Anklets featuring pearls and lace patterns are also trendy tattoo designs. The advantage of getting a bracelet style tattoo rather than permanent jewelry is that ankle bracelet tattoos don't have to be removed for MRIs or surgeries.
No matter what style you choose, ankle tattoos allow women to make a statement that is both stylish and meaningful. Follow proper tattoo aftercare, like washing twice daily and applying moisturizer, to help preserve your new ankle ink. With artistry and care, your new anklet will stay looking lovely for years to come.