The Ultimate Guide to Matrixyl 3000 Serum: Everything You Should Know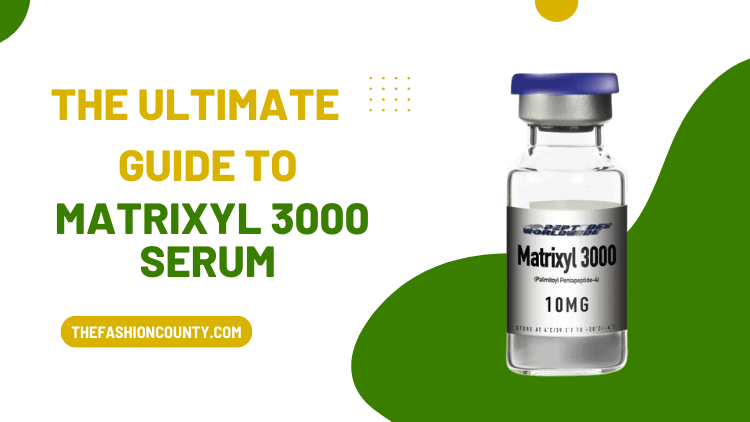 Mastering Matrixyl 3000 Serum: The Essential Facts You Must Know
The world of skincare is a fast-evolving one with new ingredients, brands and products being launched every day. But with so many varieties and combinations available, it can be overwhelming to know which ones to use and which ones to steer clear of. For instance, take Matrixyl 3000 serum. Lately, the ingredient is generating a lot of buzz as a powerful anti-aging formula. But what is it? 
Matrixyl 3000 is said to stimulate the growth of both collagen and elastin which have positive effects on the skin. And, both men and women can benefit from it and get youthful-looking skin by including the ingredient in their daily skincare routine. While many other anti-aging serums available in the market only provide short-term fixes, Matrixyl 3000 is rumoured to offer a long-term solution for the same. Over time, it is also said to fix the effects of aging on an individual's skin. But how can you know if it's worth investing in this serum and making it a part of your skincare routine? Keep reading this blog post to discover important things you need to know about Matrixyl 3000 serum to make an informed decision and enjoy the benefits that the ingredient has to offer. 
Unveiling Matrixyl 3000 Serum: A Comprehensive Guide
Whether you have heard about Matrixyl 3000 or not, here is a quick guide on everything you should know about the serum to help you understand why it should be a part of your skincare routine. 
What is Matrixyl 3000?
Matrixyl is a trademarked blend of two synthetic peptides which go by the names of palmitoyl tripeptide-1 and palmitoyl tetrapeptide-7. Peptides are proteins that provide long-term advantages of stimulating elastin and collagen as well as helping in skin repair.  To effectively understand how the ingredient works to improve wrinkles, you need to understand the basics behind its structure. Similar to other peptides, Matrixyl 3000 is a small part of the amino acid used to build proteins. The two mentioned above are also considered to be 'messenger' peptides as their main function is to regulate cellular activities such as renewal and repair. 
It is by sending the messages that the Matrixyl 3000 serum can improve the supplementary matrix of the skin and restore the skin barrier too. Furthermore, it signals an increase in collagen synthesis to visibly reduce wrinkles and fine lines owing to enhanced skin elasticity. Users can also see a noticeable improvement in dryness, blemishes and sagging skin with prolonged use. 
What Are the Benefits of Matrixyl 3000?
Some Benefits of Matrixyl 3000 include: 
Supports Collagen Production 
Numerous studies around the world have shown that Matrixyl 3000 serums can take years off of the user's face. Along with making the texture of the skin smoother. It can also help improve skin elasticity. Remember, both elastin and collagen are important to maintain your skin's youthfulness. And, since the peptides present in Matrixyl 3000 are messenger peptides, they are effective at signalling the skin cells to produce more elastin and collagen. This is exactly what aging skin requires as the more elastin and collagen are present, the firmer and smoother the skin looks and feels. 
Another major issue that many individuals face with age is inflammation which is caused by acne or aging spots. But there's no need to worry. Another Matrixyl 3000 benefit is that it can help fix that. With regular use, the inflammatory damage is curtailed and with more elastin and collagen, it provides healthier and younger-looking skin. Some studies also claim that Matrixyl 3000 goes a long way in increasing hyaluronic acid levels that are naturally present in the skin. This further help strengthens the barrier of your skin and provides an effective defence against various environmental aggressors. For this reason, the ingredient is suitable for use by those who suffer from acne and acne scars. 
Who doesn't want glowing skin? Fortunately, it's easier now than ever to achieve it. To simplify, healthy skin that glows does so because it is well moisturised. Keep in mind, if your skin is dehydrated, it will give off a tired and dull appearance. However, when your skin is moisturised, it will look youthful and lively. And, Matrixyl 3000 can help you achieve just that. Matrixyl 3000 serums can replenish moisture in tired skin cells and improve the overall glow as well as the vitality of your skin. 
Suitable for Sensitive Skin
In many instances, anti-aging skincare products are made using irritants and harsh chemicals that do more harm than good. However, this isn't the case when it comes to Matrixyl 3000. It's generally formulated to be gentle enough to not irritate the user's skin. This makes it suitable for even those who may have sensitive skin without showing any side effects. 
How to Use Matrixyl 3000?
Wondering how to use Matrixyl 3000? Here's your guide to getting's the best results out of using the serum. 
You can find Matrixyl 3000 serums which should ideally be applied on damp skin once you have washed, toned and moisturised. The method to effectively apply the product is the same as when you apply any other face serum. Start by dispensing a pea-sized amount on your palm and apply it gently to your face in a circular motion. And, don't forget to apply it to your neck as this part is just as exposed to external stressors as the face. For the most effective penetration, gently pat your face ensuring the Matrixyl 3000 serum is properly absorbed into your skin. 
The product is gentle enough to be incorporated with your daytime and night time skincare routine however, it's best to determine your needs before incorporating it twice in your daily routine. A great thing about the Matrixyl 3000 serum is that it does not react to sun exposure so you don't have to worry about any reactions doing more harm than good. And, given its ability to restore the skin barrier thanks to the peptide complex, it's best to incorporate it with your night time skincare routine. 
Typically, the product needs to be used regularly for about two to three weeks to see its effects and your skin's progress. With time, you will see a noticeable reduction in fine lines and wrinkles and enjoy more youthful-looking skin. 
Does Matrixyl 300 Have Any Side Effects?
So far, there aren't any known side-effects of Matrixyl 3000 as the ingredient has newly been introduced to the skincare world. It has also been deemed safe to use on all skin types and works well with many key ingredients used in numerous products. That said, users should still use caution when incorporating the product into their daily skincare routine. As with any ingredient, overuse may lead to some minor issues and may result in a damaged skin barrier too. It's also recommended to conduct a spot test to rule out the possibility of an allergic reaction. 
While there may not be any side effects of Matrixyl 3000, it's best not to use the ingredient with Vitamin C in the same routine. You should ideally use a Matrixyl 3000 serum at a separate time from any chemical exfoliant and active ingredient for the best results. This reduces the chances of irritation and also ensures you get the maximum benefit out of the product. 
What Are the Main Matrixyl 3000 Serum Ingredients?
A Matrixyl 3000 serum is gaining popularity in preventing signs of aging among men and women. And the Matrixyl 3000 serum is made using a combination of two new peptides named palmitoyl-oligopeptide and palmitoyl-tripeptide. When these two peptides are present and work together, they do a great job at repairing the collagen present in the skin and ensuring the skin maintains its elasticity as one ages. And, this goes a long way in fighting signs of wrinkles and fine lines and ensuring the user attains more youthful-looking skin. 
As you can see, Matrixyl 3000 serums are a great addition to your skincare routine and provide a wide range of benefits to its users. It can help reduce the signs of aging and improve your overall complexion. Whether you're looking to improve skin elasticity or reduce wrinkles and fine lines, it's a product worth investing in. And, being safe and effective, it can be used on any skin type to address various concerns. 
Also Read: