Winter Wonderland: 7 Tips to Stay Fashionable in Cold and Snowy Climates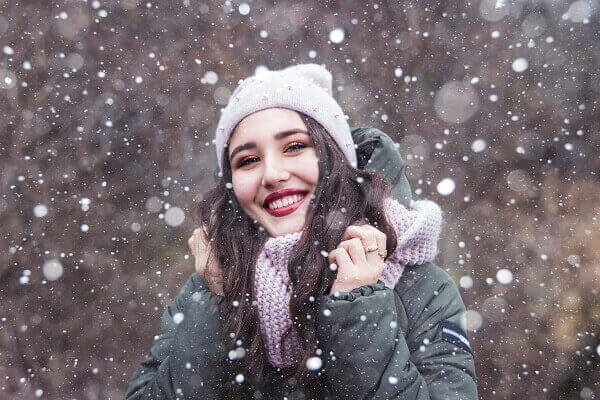 As winter arrives, staying fashionable can be challenging in cold and snowy climates. From freezing temperatures to slushy streets, it's important to balance style and practicality. Thus, whether you're heading to the office or exploring the winter wonderland outdoors, this article offers seven essential tips to help you stay fashionable in cold and snowy climates.
1. Layer Up in Style
Layering not only keeps you warm, but it also adds depth and dimension to your outfit. To remain both warm and dry, it is recommended to start by wearing a base layer of moisture-wicking fabric, such as Merino wool or thermal. Then, add a middle layer for extra warmth, like a chunky knit sweater or a fleece-lined jacket.
It's worth noting that in the case of fleece, this is the most widely used material worldwide for winter clothing. According to the Preferred Fiber & Materials Market Report, one of the most famous fleeces in the market is the Huacaya fleece. 
Supply is not an issue, as it comes mainly from the Peru supply chain. The two primary suppliers with vertically integrated processing capabilities compress around 90% of the processing.
But don't stop there. Elevate your winter style by adding a statement outer layer, such as a stylish coat or a trendy puffer jacket. Opt for a coat in a bold color or a unique texture to make a fashion statement while staying cozy. You can also play with different lengths and silhouettes to create a stylish look that suits your body shape and style.
2. Ice Cleats: The Unsung Hero of Winter Fashion
In snowy and icy climates, staying fashionable can sometimes mean compromising footwear that provides traction and stability. However, by using ice cleats for traction, you can now have the best of both worlds: fashion and function. Cozy Winters states that ice cleats keep you safe and stylish all season long. 
These slip-on accessories attach to the sole of your shoes or boots, providing much-needed grip on slippery surfaces. They come in various styles and materials, from discrete rubber grips to sleek metal studs, and can easily be worn over your favorite pair of winter boots or shoes without sacrificing your style.
These functional accessories are not only practical but also fashionable. Many ice cleats are designed with a sleek and minimalistic aesthetic, blending seamlessly with your winter outfit. In addition, some ice cleats come in different colors or patterns, allowing you to express your style while staying safe on icy terrains.
3. Keep Your Head, Hands, and Feet Warm
Keeping your head, hands, and feet warm is crucial not only for comfort but also for staying fashionable in icy and snowy weather.
Starting with your head, invest in a stylish hat that not only adds a fashionable flair to your outfit but also keeps you cozy. Next, don't neglect your hands. Hands can get particularly cold in the winter, so invest in a stylish pair of gloves or mittens that not only keep you warm but also complement your winter wardrobe.
Finally, make sure to keep your feet warm and dry. Opt for insulated and waterproof winter boots that are both fashionable and practical.
4. Embrace Warm Fabrics
Embrace warm and cozy fabrics that not only keep you comfortable but also add a touch of luxury to your winter ensemble.
Cashmere is one of the most favored winter fabrics, known for its softness and warmth. According to The Textile Tutorials, the finest merino wool is not even close to the fineness of cashmere wool fibers, which have an average diameter of 15 microns. They are so soft as, on average, there are 5-7 scales every 100 microns. They protrude from the fiber and have serrated edges, creating an uneven surface.
Invest in a cashmere sweater or scarf to elevate your winter look with its luxurious feel and timeless appeal. Merino wool is another excellent choice, as it is lightweight, breathable, and naturally insulating, making it perfect for layering.
5. Accessorize with Scarves
Scarves not only keep your neck warm but also add a touch of style and sophistication to your winter outfits. With countless patterns, colors, and fabrics, scarves are a must-have accessory for staying fashionable in cold and snowy climates.
Choose warm and cozy fabrics like wool, cashmere, or chunky knit when choosing scarves. In addition, look for scarves in trendy patterns such as plaid, herringbone, or animal prints to add a fashionable twist to your winter look. You can also experiment with different lengths and styles, from long and draped to oversized and chunky, to suit your style and outfit.
6. Add a Pop of Color
Winter can sometimes feel drab with its muted colors and neutral tones, but you can easily inject some life and vibrancy into your winter wardrobe by adding a pop of color. Don't be afraid to step out of the typical winter color palette of blacks, grays, and browns and instead embrace bold and vibrant hues to stay fashionable in icy and snowy weather.
The simplest way to add a pop of color to your winter ensemble is through accessories. Opt for colorful gloves, hats, or a statement winter coat in bold red, royal blue, or emerald green. It can instantly uplift your outfit and make a fashion statement while keeping you warm. You can also experiment with colorful sweaters or tops to add color to your winter wardrobe.
7. Don't Forget About Makeup and Hair
Your beauty routine can play a significant role in enhancing your winter look and completing your overall style.
During winter, your skin may become dry and dull due to the harsh weather conditions. Invest in a good moisturizer and foundation that provide hydration and luminosity to your skin. Opt for a dewy finish rather than a matte look to add a healthy glow.
Being Trendy and Fashionable in Icy Environments is Achievable
The main trend in the US winter wear market is the introduction of new products. According to the Technavio Report, by 2027, the US winter clothing market is anticipated to expand or contract at a CAGR of 2.85%, adding $14.31 billion to its current size. 
Thus, you have plenty of options available in the market, and to top that style, staying fashionable in cold and snowy climates is entirely possible with the right tips and tricks.
With these tips, you can confidently rock your winter wardrobe and make a fashion statement even in a winter wonderland. Thus stay warm, stay fashionable, and embrace the beauty of winter fashion.