11 Gen Z Jewelry Trends That Won't Break the Bank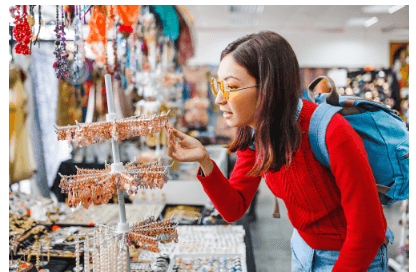 Generational sniping between millennials and baby boomers about the cost of living launched a thousand articles and a million memes. Meanwhile, Gen Z is sidling into the marketplace. And they aren't letting the mudlslinging over avocado toast and mortgage rates take the shine off their jewelry game. From YZK whatsits to resin royalty to single stone engagement rings, here are 11 Gen Z  jewelry trends that won't break the bank. Get ready for some bright colors.
Single Stone Engagement Rings
You can always tell when a generation arrives on the jewelry scene in earnest once they start buying engagement rings. You can tell it's Gen Z shoppers buying engagement jewelry because they aren't nervously poking around the store. They are bringing the whole crew: sister, future mother-in-law, Call of Duty buddies, etc., but while they are bringing a multitude of advisors, they are often looking for something simple with a single stone engagement ring. 
They might be keeping the engagement ring simple, but that doesn't mean Gen Z is limiting their options. Because they often get an affordable single stone engagement ring, they are more likely to gather a set of interchangeable rings they can combine or substitute at will. These kids grew up with vast bins of MagnaTiles and engineering creative combos is kind of what Gen Z does.
Tik-Tok-Clip-Friendly Clips
Of course, engagement rings aren't the only shiny objects that can entice a generation to go jewelry shopping. Proposals alone aren't propelling #jewelry into the billions of views on Tik Tok. Every time an iPad Shuffle gets passed off as a hair accessory, a digital engagement specialist gets their wings. 
When it comes to attracting eyeballs, Tik Tok audiences are all ears. It might be hard to keep a bracelet in the frame of the shot, but the dramatic jewelry dangling from the lobes is right there.  Humongous hoops and rhinestone-heavy fringe earrings can catch an eye without burning a hole in a pocket. And if one of those earrings goes missing, that doesn't have to ruin the set. Asymmetrical earrings are the charmingly lopsided grin of seemingly every other influencer right now.
You know what flags down an idle scroller? Bright colors. That's what. Not just the glint of metallic shades like gold. We're talking about the full spectrum of colors. Some of that comes from a renewed interest in colorful gemstones, but there is an upswell in alternative materials as well. 
The moment that the Hadid sisters started rocking resin, an entire generation decided they wanted to rescue the earth from plastic, one hefty thumb ring at a time. If there happens to be a bit of metal or flowers or glitter mixed in when that resin armband is cast, that just adds to the fun. In fact, anything that looks like the best version of "melted craft supply closet" gets the seal of approval from a mini pinky signet.
Speaking of craft supply closets, who knew that there were so many Y2K artifacts just waiting to be resurrected from storage? If you've always wanted to live in an early aughts summer camp year round, this is a charmed year.
It would be impossible to clasp hands with the spirit of Y2K without bringing back the choker.  The simple choker reps the nostalgia aesthetic as hard as any piece of jewelry out there right now. And, because it is 2022, expect to see some mixed media variations layered in as well. Gen Z just can't help itself. 
The triumph of the choker begged the question: What if we made chokers, but for the whole body? Body chains were slung about with abandon in 2021, but expect a further proliferation of links-to-link wear in 2022.  
Affordable? Check. Colorful? Check. Throwback? Yup. No wonder Gen Z has gone all-in on beads. So many beads that there are too many to string together into just a necklace. So why not cram them into a bracelet?  
With resin on the rise and beads on the brain, it's only natural that pearls would be popping in 2022. Of course, Gen Z isn't the only age demo going iridescent right now, but pearl pendants are decidedly in with a younger crowd than they have been in quite a while. 
Not all of Gen Z's jewelry trends come with a manageable price tag; plenty of gold chains might as well be made out of credit card debt. But on the whole, up-and-coming jewelry shoppers are confidently looking for eye-catching jewelry made from affordable, repurposed materials.