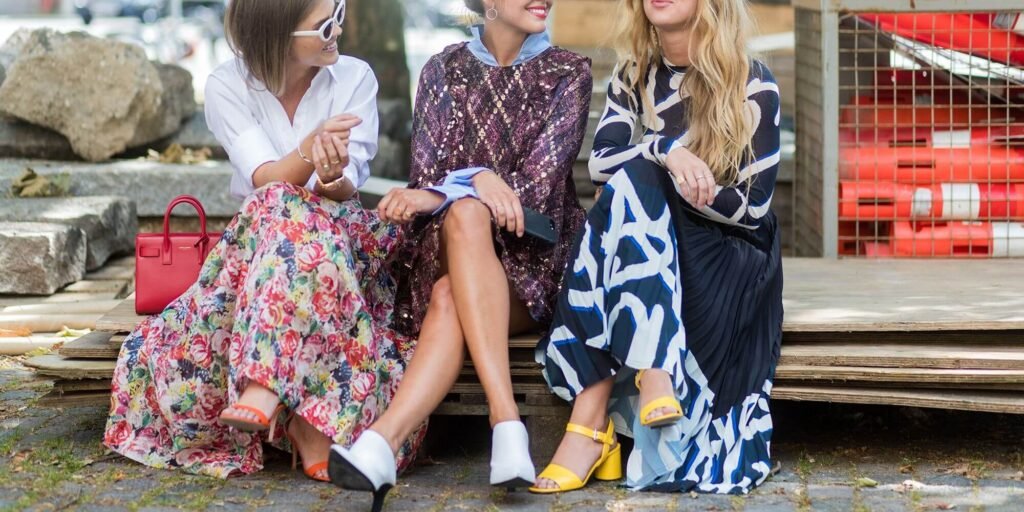 8 NEW AND TRENDY STYLES TO MAKE YOU TURN HEADS FOR SURE IN THE SUMMER
This summer, fashion is rewinding to the old trends.
The coronavirus pandemic came as a shocker to literally everyone, and had people longing for the freedom to visit restaurants, cinemas, and parties as before. In real clothes — none of those virtual thingys.
Now, with several countries in varying degrees of recovery from the outbreak, it's time to put some thought into your wardrobe. The best part is, fashion has had enough time to revamp in the past months.
So, if you're looking to splurge or just update your wardrobe in bits, we've got you covered. In this article, we'll be letting you on the latest fashion trend you need to jump on this summer. From spunky colors and badass denim to baby doll dresses, there is a bit for everyone's personal taste. 
Keep scrolling to discover the 8 summer trends that are guaranteed to make you turn heads.
   1.Puffed sleeves are making a statement
These Victorian-inspired styles are back in this summer from the 19th century; and not so silently. They can take a simple white dress or a plain blank top from ordinary to spectacular. Whether the puffs are placed prominently over the shoulders or narrow down to the arms, go all out with it. You can opt for bright colors to channel some inner princess vibes or dark colors for an edgy look.
   2.Baby doll dresses to put everything in perspective
Say hello to your next effortless ensemble — the baby doll dress. The baby doll dresses come in different color trends, from pastel to deep hues, and in varying volumes. These playful styles can be worn casually or accessorized for a night out.
   3.Neons for the win this summer
Nothing spells 'summer fun' colors that are bold. Making a powerful presence this summer, this trend has stepped from the runways into the streets. If you want to go loud and wear your brightest colors, experts suggest using chunky gold accessories to add a twist. 
Is an all-neon ensemble too loud for you? No problem. You can go easy on the trend by picking neon accessories, e.g. a bag, jacket, or shoe. 
Pair a neon top with rolled-up denim pants and sneakers for a subtle look that is comfortable and stylish. Or pair a neon jacket with a white crop top and statement pants.
   4.Head-to-toe denim is back in style
We are yet to see a trend as creative as denim. Denim comes in several forms — distressed, bleached, flared, etc. Head-to-toe denim can be paired as a full look, with a white/black inner for a classic look.
   5.Bermuda shorts are a must-have this season
Bermuda shorts are shorts that hit the knee, below the knee, or just above the knee. You can pair them with a tank top and heels for a party look or crisp button-down shirts and pumps for an office-appropriate outfit. 
   6.Drawstrings are everywhere.
The drawstring phenomenon is all over summer. The lively gathered effect of the drawstring on clothes adds such effortless interest to your look. There is no limit to how to rock this trend, as drawstrings have found their way on shorts, skirts, dresses, jackets, and even cropped tees.
   7.Bucket hats 
The bucket hats have slowly wormed their way to being a favorite wardrobe staple. They became famous in the '80s and '90s with rappers and hip-hop scenes. Luckily, the 90s are making a comeback, and so are the hats.
Although they might seem tricky to style at first glance, fear not! The bucket hats are more versatile than you think. Pair a printed bucket hat with a turtleneck and mini skirt for a chic laid-back look. Or pair a gingham bucket hat with a black pride t-shirt and combat boots for an edgy look.
   8.Square-toed heels.
Traditional heels have been given a new face — square toes! 
These heels give the perfect touch to your outfit, making you appropriately dressed for the day and an evening dinner. For a daytime look, style your square-toed heels with a jumpsuit or high-waisted bottoms. For an evening night out, pair the shoes with a dress.