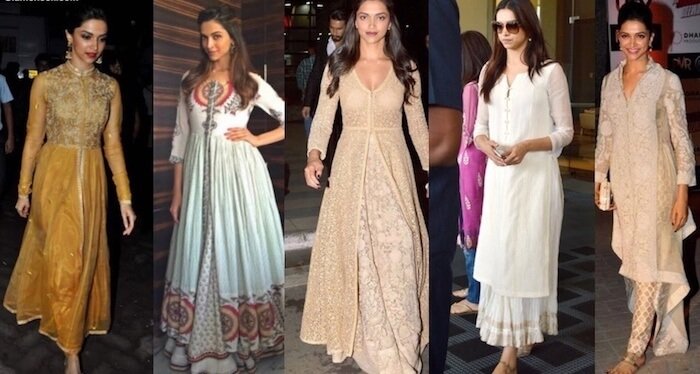 Gone are the days when we paired our beautiful, traditional Kurtis with their respective bottoms. Instead, we have discovered the most exclusive ways to style your designer Kurtis with the upcoming trends for an everyday look. Each trend is simple, elegant, and comfortable to make you look like a breath of fresh air wherever you go. 
Every day we want to look different. Some days, we are in the mood for fusion wear, while other days, we might want to end up looking flashy. Fear not; we have eight different styles for eight different moods all along the week. Let's get started! 
Kurti As A Dress 
Who doesn't want to ditch the bottoms for a classy dress look? With a pint of creativity and style, you can transform your beautiful designer kurtis look into something elegant and modern right away. So slip into your favorite Kurti without the bottoms. Add a corset belt, and wear your favorite sandals to complete the look. Oh, and do not hesitate to level up this look with enough kohl on your eyes. We promise; nothing beats such elegance paired with style. 
Kurti With A Shrug 
If you are wearing a plain Kurti and you don't know how to lift its vibe, put on a classic printed shrug to ace the look. Traditional printed shrugs are the most aesthetically pleasing and provide a vibe that matches no other. If you have a white designer kurtis, it can go well with any shrug of your choice. 
Kurti With Dhoti Pants 
An all-traditional appearance is our favorite. It never goes out of fashion. Dhoti pants are back in trend, and we cannot wait for you to style them with your famous designer kurtis. If you want to deck it up, don't forget to put on your favorite jhumkas. Oh, and if you have Nagra shoes to go with them, nothing beats this look. Try it out today! 
Slit Kurti With Jeans 
Some days the quest to look hot in a designer kurtis can take over your head. But don't worry, we have a way to do the trick. First, put on your favourite slit designer kurtis and team it up with your best-ripped jeans. Then, complete the look with light accessories and a comfortable sandal to go with it. Now, you are all set to conquer the runway. 
Kurti With Flare Skirt 
If you love ethnic wear, a Kurti with a flared skirt will win your heart forever. A contrasting outfit paired with a designer kurti and flare skirt makes a perfect cocktail attire. You can also wear it to any Puja or a casual dinner with family. 
Kurti With Shorts 
If you have a short Kurti and you don't know what to do, pair it up with your favourite shorts and get going. This is the perfect college outfit, or for those days when you want to chill with your friends. Then, pair them up with your favorite shoes, and there you go! 
Kurti With Sharara Pants 
We have always loved the traditional Kurti with sharara pant style for the added ethnicity it has to offer. So do not shy away from experimenting with this beautiful combination. 
Kurti With Cigarette Pants 
If you desire a modern and more sophisticated look, Kurti with cigarette pants will do the job just right. Try it out!