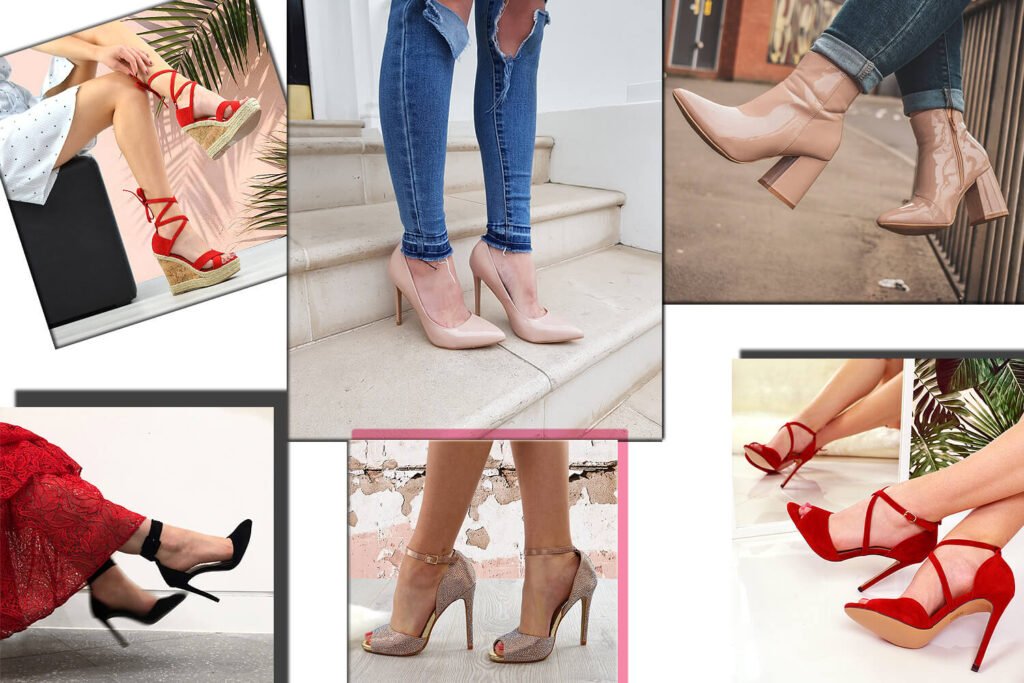 "Give a woman the right shoes, and she can conquer the world," the iconic Marilyn Monroe once said. Indeed, nothing completes a woman's outfit better than the perfect pair of shoes. 
While it's essential to pick out footwear that goes well with the outfit and the occasion, there are so many different footwear styles available to choose from; it can be a dilemma for so many women.
All you need is something on your feet that is trendy and fashionable to get everyone's attention without sacrificing your comfort for style. Remember that you'll often be on your feet for many hours, and pain is certainly not beautiful. If your shoes aren't an excellent fit or the material feels harsh on your skin, try another pair before you buy.  
Matching Shoes To Outfits
Mixing and matching dresses with shoes shouldn't be too hard, as long as the essentials are right. You should always pair them with specific colors in your look and the overall theme of your outfit. However, with so many fashion mistakes and wannabe statements went awry, choosing the perfect match can be a tricky task. 
Boots
This fabulous type of footwear for women can be worn with pretty much any outfit. Try wearing some thigh high or chunky boots with a denim skirt, skinny jeans, a long dress, or a simple skirt and crisp tee. Baltini has an explicit selection of boots for every look you want to achieve. 
Pumps & Stilettos
Effortlessly paired with most modern and chic outfits, pumps and stilettos look nice with stylish pantsuits, pretty pencil skirts, and classically long maxi dresses. You can also add these to a wide variety of looks like fur jackets with short dresses or trench coats with long skirts. 
Stilettos are glamorous, but their uncomfortable height might deter women from wearing them. Trust your feet's comfort to Baltini's exquisite selection of Italy's finest, for stilettos that are pleasant and easy to wear. 
We bet Carry Bradshaw was wearing Baltini's stilettos when she nonchalantly claimed, "I am not afraid of heights. Have you seen my heels?"
Wedges & Peep Toes
Mostly worn with knee-length skirts or dresses, wedges and peep toes usually work best with bare legs. This also gives you the option of pairing them sheer or opaque hosiery, depending on your mood or style. Baltini has put together the plushest collection of wedges and peep toes for an undeniable eye-catching look. 
Strappy Sandals
If you're chasing that boho-chic inspired style, at least a couple pairs of strappy sandals in your wardrobe are imperative. To ace this look, strappy sandals can always be worn with longer, hippie-style dresses. Find your posh sandals at Baltini's platform and rock your style. 
Pumps & Loafers
Just like classic boots, pumps and loafers can also be worn with almost any outfit you like. And if you want that young and playful feel, try experimenting with different patterns and colors. Classy or fancy, plushy or whimsical, whatever style you are looking for, Baltini has it for you. 
Matching Shoes To Occasions
Most occasions call for specific types of footwear. Like when you're planning a day at the beach, you'll want to wear crocs or flip flops for ease and comfort. And depending on your company's dress code, you might wear pumps or kitten heels to work. 
At The Office
Office footwear should generally be comfortable, understated, yet stylish. Wedges or pumps are often the perfect go-to, with a heel height under four inches. Alternatively, a chic look during work and afterward, a pair of classic ballerina flats always work as well.
At A Party
With all the walking, standing, and dancing involved with a night out partying or at nightclubs, it is often difficult to choose between comfort and style for many women. Pumps, heels, or wedges are usually the best options for that club style, while more comfortable pairs of sneakers may be more suited to parties with friends.
At A Formal Dinner
Formal dinners and other special occasions call for pulling out all the stops and wearing your most stand out footwear. So, depending on your outfit, you can usually choose between peep-toes and stilettos. Peep-toes give you an elegant look, stilettos are always classic for any high-class dinner party, while pumps look great while still being easy to walk around in all night.
Whether it's a formal or semi-formal occasion, a casual style or party wear, your shoes should both make a statement and set the trend.
Conquer the world 
To borrow the legendary Carry Bradshaw's wise words again: "The fact is, sometimes its hard to walk in a single woman's shoes. That's why we need really special ones now and then: to make the walk really fun". 
Baltini has put together the most exclusive collection from Italy's most glamorous boutiques for those really special shoes. Our platform gives our customers access to more than 100 international brands and 50,000 luxury items across Italy at the best price, up to 35% less than market price.
For a seamless shopping experience, we accept payment by Klarna (payment installment) and guarantee fast international shipping. After all, a woman needs her ideal shoes to conquer the world. And we promise to help you conquer the world in glam and style.