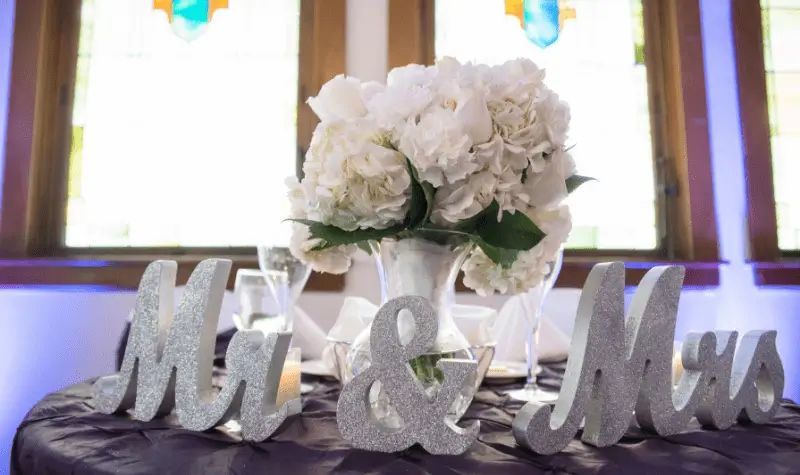 A wedding hashtag can be an excellent way to enhance your big day. More than just a fun social media-based trend, hashtags are also a practical opportunity to collect amazing photos from your wedding. You can get your guests involved in sharing relevant images online, and expand your photo album, without spending a fortune on extra photographers.
More often than not, your digitally-savvy wedding guests are going to be snapping photos with their smartphones throughout your ceremony and reception. A wedding hashtag gives you an easy way to bring all of those images together, so you can find some hidden gems.
Of course, to really take advantage of your hashtag, you need to know how to display it.
10 Ways To Display Your Wedding Hashtag
There are plenty of ways to showcase your wedding hashtag to grab the attention of your attendees. The method you choose will depend on your budget, your personal style, and the atmosphere you're trying to create on your big day. Here are just some of our favorite options.
1.
Wedding Favors
Wedding favors are an excellent way to thank your attendees for being a part of your special day. They also give people something special to help them remember the event. A wedding hashtag can easily be printed onto the packaging of a custom chocolate bar, or fastened to an individual flower placed beside each person's seat.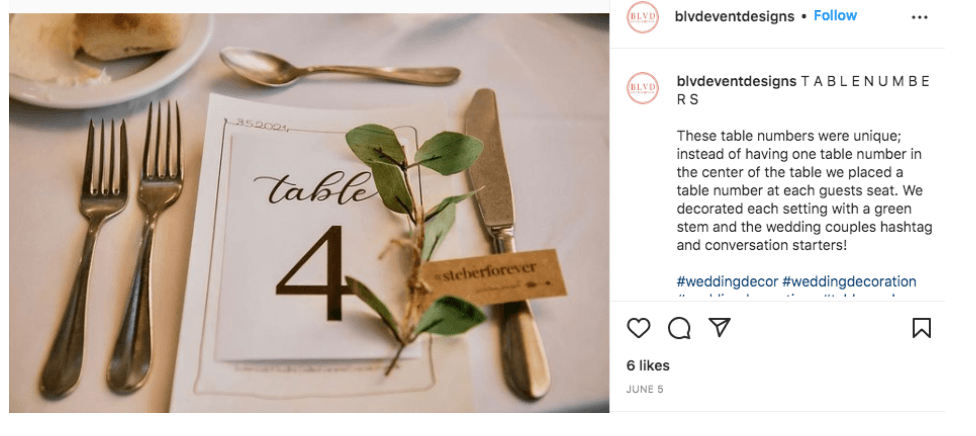 2.
Directional Signs
Directional signs are a good way to help people navigate your venue. They ensure everyone congregates in the right place for toasts, food, and dancing. Plus, they can include extra information in the form of wedding hashtags. Use your directional signs to remind people to snap photos of your venue when they're exploring your stunning décor.
3.
Neon Signs
If you're trying to create a modern vibe with your wedding décor, few things make the same impression as a flashy neon sign. Today, companies can create custom neon signs to say virtually anything you like. A neon sign with a wedding hashtag not only grabs the attention of your attendees, but it also gives you something fantastic you can display in your home when the big day is over.
4.
Photobooth Props
Photobooths have become a very popular trend in today's wedding market. These fun and engaging experiences give people a chance to snap some nostalgic memories from your big day. Props are an excellent way to make the booth a little more fun. You can create simple hand-held signs props so people can add hilarious glasses or mustaches to their face. Or you can keep it simple with love hearts, rings, and "Mr" and "Mrs" signs.
Adding a hashtag to a photobooth prop is a great way to remind your visitors to share the images they collect on social media, too, so you can all enjoy them at a later date.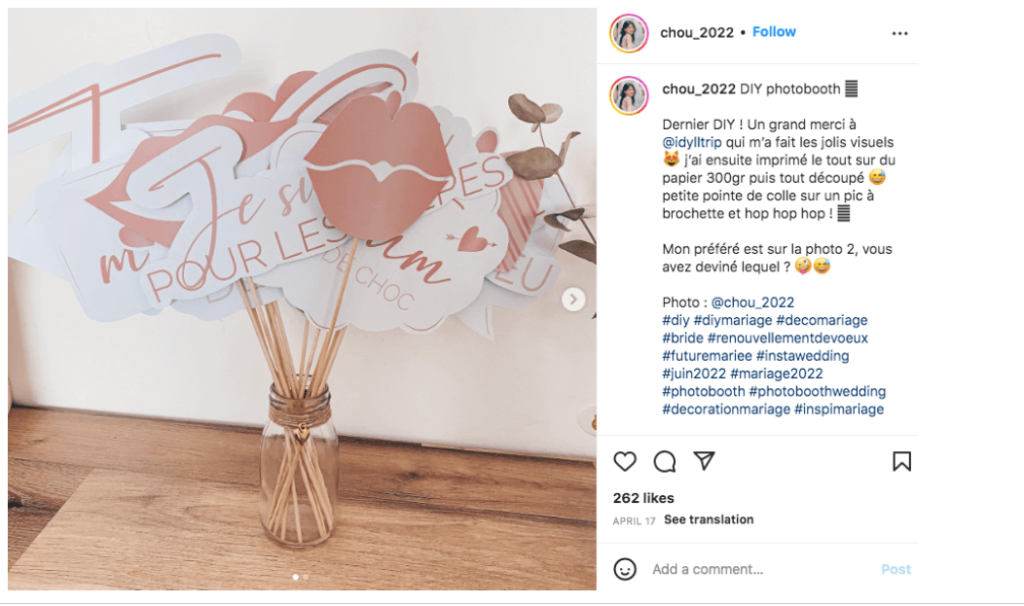 5.
Photobooth Backgrounds
Since photobooths are all about encouraging people to snap as many pictures as possible, it makes sense to take advantage for your wedding hashtag strategy. Aside from adding your tag to your props, you can also include it on the background for your photobooth.
Creating a consistent background for your photobooth will also ensure all of your images share a theme when you want to create your own album.
6.
Cocktail Napkins
Napkins are a fun way to add a touch of class and sophistication to your wedding décor. The chances are your attendees are going to need to grab these accessories on a regular basis, so take advantage by adding your own hashtag.
You can customize your napkins however you like, with sophisticated monograms, beautiful images, and colors to match your wedding theme.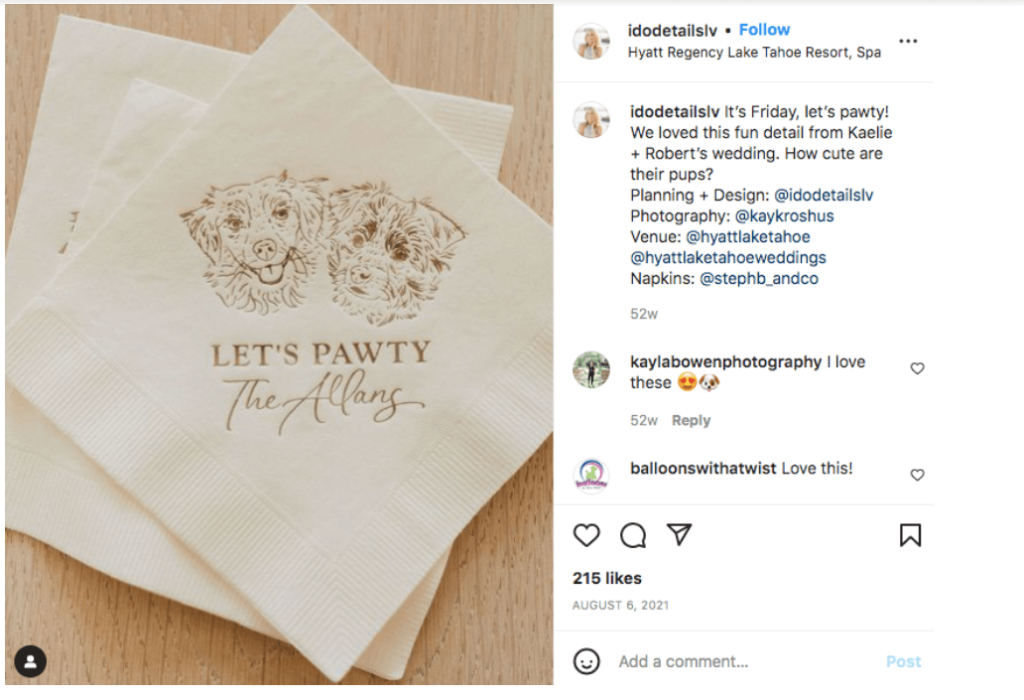 7.
Bar Signs
People tend to congregate around the bar at a wedding. It's a good place to connect and chat with other guests. Plus, after plenty of dancing, most of your attendees will develop quite a thirst. Remind them to snap their moments whenever they go for a drink top up with a bar sign.
Your sign can be as simple or as extravagant as you like. You might simply frame an image and place it on the bar. Or you could use bunting draped around the bar itself.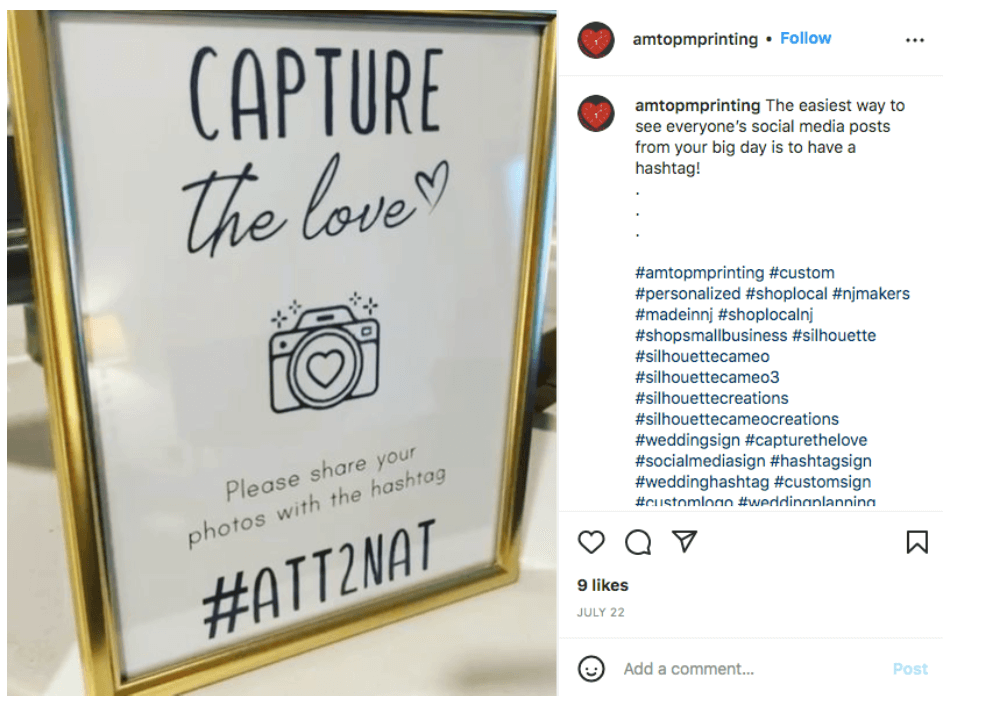 8.
On The Guestbook
By the time guests approach your guestbook, they're going to be filled with emotion. After leaving a loving message in your book, it's worth encouraging your attendees to snap a picture of themselves at the event. You can do this with a hashtag printed on the pages of your guestbook.
If you don't want to place the hashtag directly on the book itself, or you're using a different kind of guestbook, like a wooden collection box, create a sign you can place alongside it.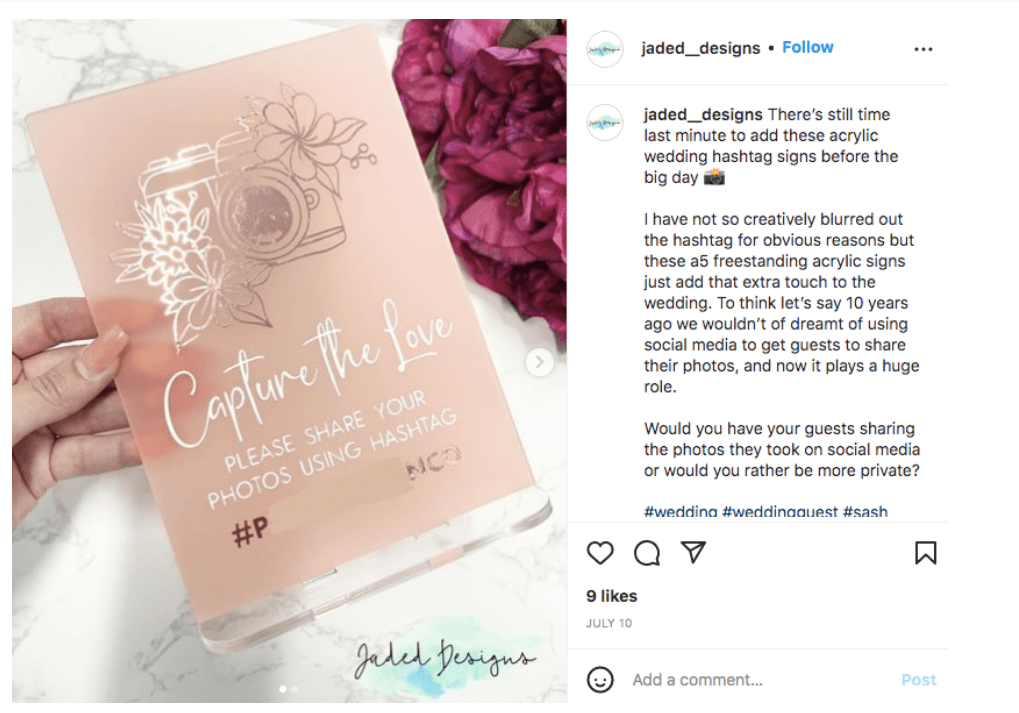 9.
Your Cake Topper
Cake toppers have come a long way from the traditional bride and groom. These days, you can create virtually anything, from custom characters to wooden signs. Since your cake is likely to be a major centerpiece for your big day, it's a great way to show off your hashtag.
10.
Table Name Cards
By the time people sit down to eat and relax at a wedding, there's a good chance they've already captured a lot of amazing photos. Adding your wedding hashtag to your table name cards will remind your guests where they should be sharing their images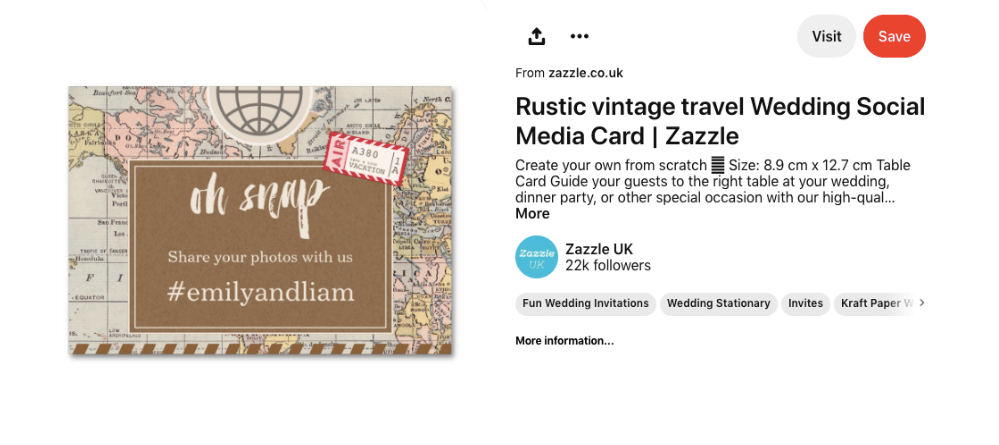 How To Get The Best Wedding Hashtag
Once you have some ideas on how you're going to showcase your wedding hashtag, you might start wondering how you're going to come up with a good one in the first place. Your wedding hashtag should be unique to you and your partner, memorable, and simple enough your guests won't have a problem using it. Here are some top tips to get you started.



     

Use A Professional Service
A professional service like Wedding Hashers can take some of the stress out of choosing the perfect tag. These professionals have endless experience creating custom hashtags based on the unique relationship and style of the couples they work with.
Professional services work with you to determine what kind of hashtag you want and provide ideas on how you can make your choice unique. All you need to do is fill out a simple questionnaire, and the professional writers will do the rest.



     

Use A Hashtag Generator
If you're limited on time, and you need inspiration fast, you can consider using a hashtag generator. Generators use simple words like your name and "love" to bundle different terms together. This can give you a good starting point to begin sorting through hashtags.
Unfortunately, generators do tend to come up with relatively generic hashtags. This could mean you end up with an idea someone has already taken.



     

Create Your Own Hashtag From Scratch
If you're feeling particularly creative, you can rely on your own knowledge of your relationship, and your writing prowess to build your own hashtag. Here are some quick tips to get you on the right track:
       

Use your names: This is a great way to make the hashtag specific to you.

       

Use a pun: Playing with puns makes your tag more memorable, like "LoveAtFirstWright."

       

Make it simple: Stick with hashtags that are easy to spell, so your guests don't make mistakes.

       

Check for originality: Make sure your hashtag hasn't been used before.

       

Capitalize each word: Using capitalization correctly will make your tags easier to read.
Making The Most Of Your Wedding Hashtag
One of the most popular trends in today's social media obsessed world, the wedding hashtag is a fantastic way to enhance your big day. However, it's important to make sure you not only choose the right tag, but also know how to display it correctly too.
Use the tips above to inspire you, but don't be afraid to think outside of the box when it comes to making your hashtag specific to you and your partner.