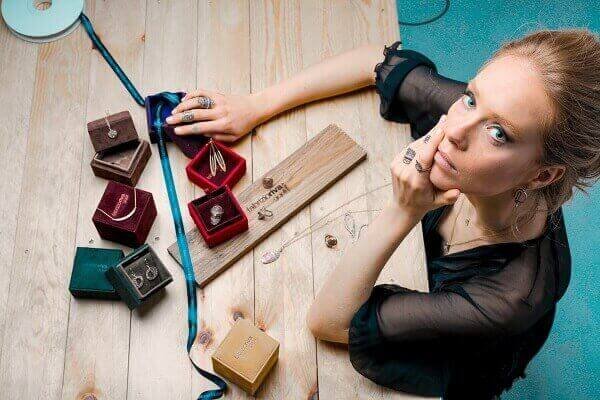 You have a remarkable ability to design and craft exquisite jewelry. You've recently had the inspiration to put your creative instincts to use in the commercial jewelry industry and transform your hobby into a lucrative business.
If you're considering opening an online jewelry store, you probably have many questions, such as, "Should I focus on selling rings, bracelets, earrings, anklets, or everything?" or "Where should I get quality jewelry-making supplies?" So let's dive into the significant areas that need the most focus when starting a small jewelry business in 2023.
Create a Plan for Your Company's Future
A well-thought-out business strategy will help you stay ahead of the competition, whether starting a little jewelry shop or a massive online retailer. In addition, investing time early will save you from the frustration of figuring out what went wrong afterward.
Investigate the Market
Comprehensive market research is a must. But then, you'll have more time and energy to grow your company. You can start by reading blogs, forums, and related social media groups to learn more about a specific field. Start with a list of clues, add questions over time, and keep searching for clarification. Your study will inevitably yield a wealth of information.
Some possible first results are:
– Current trends in the jewelry market
– Jewelry products already on the market
– Customers' potential spending power
– Gross and average revenue for a specific time frame
– Problem areas for customers
– Quality problems with modern products
– Competitors' relative advantages and disadvantages
As you delve further, you'll inevitably come across new questions. Google Trends is an excellent free resource for analyzing current market conditions.
Set Your Business Apart from the Competition
After researching the market size, you should select a specific subset to focus on. Creating a successful business strategy requires first-hand knowledge of your target market. Do you want your online jewelry store to sell jewelry that everyone likes to wear, or do you want to specialize in certain jewelry? Do you focus on anything in particular? Do you make custom jewelry? Brochures? Rings? Bracelets? If so, you've found your niche. If you're a generalist, you might find it helpful to specialize first.
Why not specialize in diamond engagement and wedding bands only? Although the number of potential customers may seem low, this strategy can help you effectively serve a specific subset. Most of us would be tempted to go after enormous revenues by offering everything a customer could want, whether designing it ourselves or purchasing it from a provider. Although it may be tempting to strive to please everyone, doing so when working with a limited budget is impossible. You can narrow your focus by learning more about your target audience's size and make-up. Then, make informed decisions about what to develop and sell in a given market by consulting relevant facts and research.
Think of Manufacturing
You may have been designing jewelry for a while, but producing it commercially at a high enough quality and quantity to satisfy consumers can be costly. If you don't think you'll have time to complete everything yourself, you can take lessons or courses to hone your expertise or hire a designer. If it doesn't work with your schedule, look for a reliable producer to purchase from. You can also consider contacting a wholesaler or a supplier in your area or elsewhere. You can also look at Azeera, Fashion Bella, and Aliexpress. If you go through wholesalers, you'll have to buy jewelry in large quantities to save money. The dropshipping model is another option if you lack the resources to make bulk purchases. While the drop shipment strategy may limit your ability to oversee quality control, it can meet anticipated demand.
Develop a Budget
When developing a business strategy, it is essential to set a budget. Determine whether or if your startup requires further capital, and if so, where from. Whether you wish to sell gold, diamonds, bronze, or glass jewelry will significantly impact your budget.
Taking note of the following will help you along:
Do you need any unique resources to create your jewelry designs?
You may still require money to keep inventory even if you're a supplier's favorite customer.
How many people will be involved in the company at the outset? Will you work from home or need a team, shared office space, and other everyday operating expenses?
– Don't forget to factor in the price of any necessary licenses or permits.
There will also be an investment in advertising.
No matter how little your company is, you must have a budget. Having a clearer idea of future expenses will help you budget more effectively.
Think of a Powerful Name for Your Jewelry Business
Your company now needs a name. Try to relax and think beyond the box. If you're lucky, you probably have a candidate in your head. If not, then you need to put in some effort.
Your company's moniker should be memorable to your target demographic and convey the nature of your intended business operations. It is the first thing people will notice about your business; therefore, it must be memorable, catchy, and simple to say.
You must also check that the name you choose is not already in use or protected by law. It would help if you thought of a good name for your online jewelry store, but you also need the domain name to be available. You are considering how difficult it is to choose a unique name when so many are already in use. Once you've settled on a name, please don't waste any more time thinking about it; go ahead and register it and buy the domain.
Use WordPress to Launch Your Online Jewelry Store
With the information in this part, opening a shop from scratch is a breeze. Ideally, you'll want to use WordPress, a jewelry-specific theme that works well with the WooCommerce plugin. Don't worry if you've never had a hand in creating a website before. As simple as it can be, we will make it for you. Multiple paid and free options are available for creating an online shop. WordPress is the best option. Therefore that's what we're using. You get complete power over your website at no cost and with minimal effort.
Register Your Domain & Pay For Hosting
You have selected a name for your online enterprise and completed a business plan. You should hurry up and register that domain name before someone else does. Domain names are what you type into your web browser to visit a website.
After securing a domain name, the next step is to sign up for web hosting. To make your website viewable online, you must have it hosted somewhere. Hosting costs an annual fee, just like a domain name does. You can save money by purchasing both from the same vendor.