High Neck T-Shirts: A Fashion Essential for Modern Wardrobes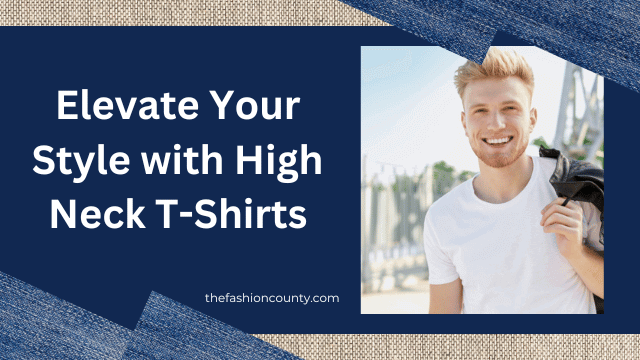 Trends come and go in the fashion industry, but some classics endure. Enter the high neck t-shirt, a versatile wardrobe essential that has resurfaced in recent years, capturing the hearts of fashion enthusiasts across genders. Its distinctive neckline and captivating aesthetics have propelled it to the forefront of must-have items. This blog post examines why high neck t-shirts are so popular, their different style alternatives, and how to incorporate them into your regular wardrobe.
The Rise of High Neck T-Shirts
The popularity of high neck t-shirts has skyrocketed in recent years, with these trendy items gaining traction among fashion-conscious consumers. Here are some of the major causes that have contributed to their current popularity:
Fashion Evolution 
Fashion trends are cyclical, and the high neck T shirt from prior eras have made a reappearance. They were popular in the 1960s and 1970s and have revived with a modern twist, appealing to people who want retro-inspired fashion with a current edge.
Unique Neckline Appeal
The high neck design distinguishes these t-shirts from standard crew neck or V-neck styles. The neckline is higher on the neck, giving the garment a visually stunning and distinct appearance. This distinct feature provides a sense of sophistication and elegance, making high neck t-shirts a trendy choice for individuals looking for something unusual.
Versatility in Styling
High neck t-shirts have proven to be extremely adaptable when styling alternatives. They can easily move from casual to formal depending on how they are matched with other items. This adaptability makes them an appealing option for people who appreciate wardrobe pieces that can be dressed up or down for different situations.
Celebrity and Influencer Endorsement
High neck t-shirts have garnered tremendous awareness due to celebrity and influencer endorsements. Their fashionable look has been featured on social media platforms, red carpets, and street style blogs, causing a ripple effect and inspiring others to adopt high neck t-shirts into their collections.
Gender-Inclusive Fashion
The growth of unisex and gender-inclusive fashion has boosted the popularity of high neck t-shirts. These outfits have a gender-neutral look, which appeals to people who value style that transcends traditional gender lines. High-neck t-shirts are famous for individuals looking for inclusive and various fashion options due to their versatility and basic design.
Emphasis on Minimalism 
High neck t-shirts are in line with the developing minimalistic fashion trend. Their clean, streamlined appearance appeals to people who value simplicity, functionality, and timeless elegance. High neck t-shirts may be readily incorporated into many outfits due to the lack of unnecessary elaboration or frills, making them a basic piece for individuals preferring a minimalist wardrobe.
Ease and Comfort
High neck t-shirts offer style and comfort, making them an appealing alternative for everyday wear. Their growing popularity is due to the soft fabrics, casual fits, and unfettered movement they provide. High neck t-shirts have become an integral feature of modern wardrobes as people emphasise comfort above style.
Styling Tips
Here are some more styling ideas to help you make the most of your high neck tees:
Statement Outerwear
Pair high neck t-shirts with statement outerwear pieces to create a trendy and eye-catching look. To add individuality and dimension to your ensemble, layer a brightly coloured or patterned coat, a leather jacket, or a trench coat over your high neck t-shirt.
High-Waisted Bottoms
Wear your high-neck tee with high-waisted bottoms like jeans, trousers, or skirts. Tucking your t-shirt into the waistband of your bottoms emphasises your waistline and gives you a more professional and put-together appearance. This combo is appropriate for both informal and formal settings.
Prints and Patterns
Don't be scared to experiment with prints and patterns in your high neck t-shirt combos. Experiment with stripes, floral prints, and geometric patterns to add visual interest and a whimsical element to your outfit. Just make sure the prints don't overshadow the high neck t-shirt and compliment the rest of your outfit.
Layered Necklaces 
Dress up your high neck t-shirt's neckline by stacking delicate or striking necklaces. This provides a sense of sophistication while drawing attention to the neckline. Combine multiple necklace lengths and designs to create a bespoke and one-of-a-kind look.
Texture Play
Experiment with various textures to create a visually appealing costume. Pair a chunky knit high-neck tee with leather leggings or a silky high-neck tee with jeans. Texture mixing adds dimension and produces a visually appealing contrast in your outfit.
Belted Look 
Add a belt to your high neck t-shirt attire for a more defined outline. Choose a wide or showy belt to squeeze in your waist and elongate your figure. This works nicely with flowy or oversized bottoms like wide-leg pants or skirts.
Casual Sporty Look
Pair your high neck t-shirt with joggers, leggings, or athletic-inspired bottoms for a sporty and casual look. Add sneakers, a bomber jacket, and accessories like a cap or sunglasses to complete the laid-back and athletic look.
Remember that these suggestions are supposed to spark your imagination and that fashion is subjective. Feel free to play around with these ideas and adjust them to your particular style and tastes. The goal is to have fun with your high neck t-shirt outfits and express yourself!
Wrapping Up
As we conclude this fashion journey, it's evident that high neck t-shirts have risen to become an indispensable item in modern wardrobes. Their versatility, unique designs, and ability to effortlessly blend with various styles have catapulted them into the realm of must-have fashion essentials. Experiment with different high neck t-shirt combinations and styling techniques mentioned earlier. Let your imagination run wild and create fashion-forward ensembles that reflect your unique personality.
Keep an eye on emerging fashion trends and adaptations of high neck t-shirts. Fashion is ever-evolving, and staying informed will ensure you remain at the forefront of style. Remember, the journey of fashion is an expression of your individuality. Let high neck t-shirts be your canvas as you paint a picture of confidence, sophistication, and impeccable taste. Embrace this fashion revolution and witness the transformation it brings to your style. The world is ready to be captivated by your unique fashion sensibilities. So, are you ready to make a statement with high neck t-shirts? Start your fashion revolution today!