The Power of Sunshine: How a Yellow Dress Can Boost Your Mood and Confidence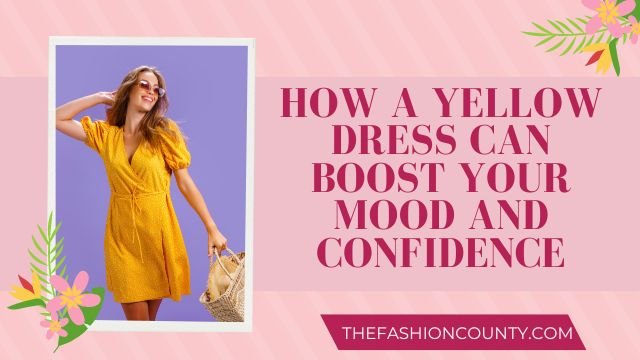 Introduction 
Yellow is a color that's often associated with sunshine, happiness, and positivity. It's no wonder why wearing a yellow dress can instantly lift your mood and boost your confidence! Whether you're attending a summer wedding or simply running errands on the weekend, adding a pop of yellow to your wardrobe can make all the difference in how you feel. In this blog post, we'll explore the power of sunshine through fashion and show you how to wear yellow dresses without looking like a bumblebee. 
The Mood-Boosting Power of Yellow
Yellow is a color that's often associated with happiness, warmth and cheerfulness. It's no wonder why wearing yellow can instantly boost your mood and lift your spirit.  Studies have shown that the color yellow has a positive effect on our emotions, making us feel happier and more optimistic.
Increase Serotonin Levels In The Brain :

In fact, researchers have found that exposure to bright colors like yellow can increase serotonin levels in the brain – the hormone responsible for regulating mood. This means that simply adding a pop of yellow to your outfit can have a powerful impact on how you feel throughout the day.
Friendly And Confident :

And it's not just about feeling good – wearing yellow can also make you appear more approachable, friendly and confident. In social situations, wearing this vibrant hue can help you stand out from the crowd and leave a lasting impression.
So if you're looking to add some sunshine into your life (and wardrobe), consider incorporating dresses in yellow into your outfits. Whether it's a bold maxi dress or subtle accessories like earrings or shoes, embracing this sunny shade is sure to elevate both your style and mood.
How to Wear Yellow Without Looking Like a Bumblebee
Yellow is a bright and playful color that can instantly lift your mood. However, wearing too much yellow or the wrong shade can make you look more like a bumblebee than a fashion icon. Here are some tips to help you wear yellow without looking like a walking beehive.
Choose The Right Shade Of Yellow :

Choose the right shade of yellow that compliments your skin tone. If you have fair skin, opt for pastel yellows or lighter shades of lemon. For darker skin tones, bold and vibrant shades such as mustard and golden yellow work well.
Yellow Dress With Neutral Accessories :

Pair your yellow dress with neutral accessories such as black pumps or nude sandals. This will balance out the brightness of the dress while keeping it chic and sophisticated.
Experiment With Different Textures :

Experiment with different textures when wearing yellow. A flowy chiffon dress in soft lemon hues would look great for summer picnics while a structured mustard-yellow blazer could be perfect for office attire.
The Best Yellow Dresses for Every Body Type
Yellow dresses are a perfect way to add a pop of color to anyone's wardrobe. However, finding the right yellow dress that suits your body type can be challenging. But don't worry.  Here are some of the best yellow dress styles for every body type.
Hourglass Figure :

For those with an hourglass figure, choose a fitted dress that accentuates your curves. A midi-length wrap dress in mustard or marigold is an excellent choice as it highlights your waistline and elongates your legs.
Pear-shaped Body :

If you have a pear-shaped body, look for dresses with an A-line silhouette that flare out from the waist down. A bright yellow maxi dress with ruffles or pleats will balance out wider hips and thighs while highlighting your upper half.
Apple-shaped Bodies :

For apple-shaped bodies, opt for shift dresses that skim over any problem areas around the midsection. Avoid belted styles and instead go for loose-fitting pieces like a lemon-colored tunic paired with white jeans or leggings.
Petite Figures : Petite figures should stick to casual mini-dresses that show off their legs and create an illusion of height. Choose shades like pastel yellow or buttercup which compliment fair skin tones beautifully.
There's no need to shy away from wearing bold colors like yellow just because it may seem intimidating at first; just choose the right style according to your body shape.
Tips for Wearing Yellow With Confidence
When it comes to wearing yellow, confidence is key. Here are a few tips to help you pull off this sunny hue with style and self-assurance.
Consider Your Skin Tone  :

Consider your skin tone when selecting the shade of yellow that works best for you. If you have warm undertones, go for a mustard or golden yellow, while cooler tones will look great in lemon or pastel shades.
Mix And Match Different Textures : Next, don't be afraid to mix and match different textures and fabrics. A silky slip dress paired with suede ankle boots can add depth and dimension to your outfit.
Adding A Denim Jacket :

Embrace the power of layers. Adding a denim jacket or chunky knit sweater over your yellow dress can make it more versatile for different occasions and weather conditions.
Owning your style choices is half the battle when it comes to feeling confident in what you wear. So don't shy away from this joyful shade , embrace its mood-boosting power and let yourself shine.
Conclusion
The power of sunshine is real and can be harnessed through wearing a yellow dress. With its mood-boosting properties, yellow dresses have become a popular choice for those looking to add some positivity to their wardrobe. By following our tips on how to wear yellow without looking like a bumblebee and choosing the best yellow dresses for your body type, you can feel confident in rocking this vibrant color.