3 Tips and Tricks for Wearing Colorful Shoes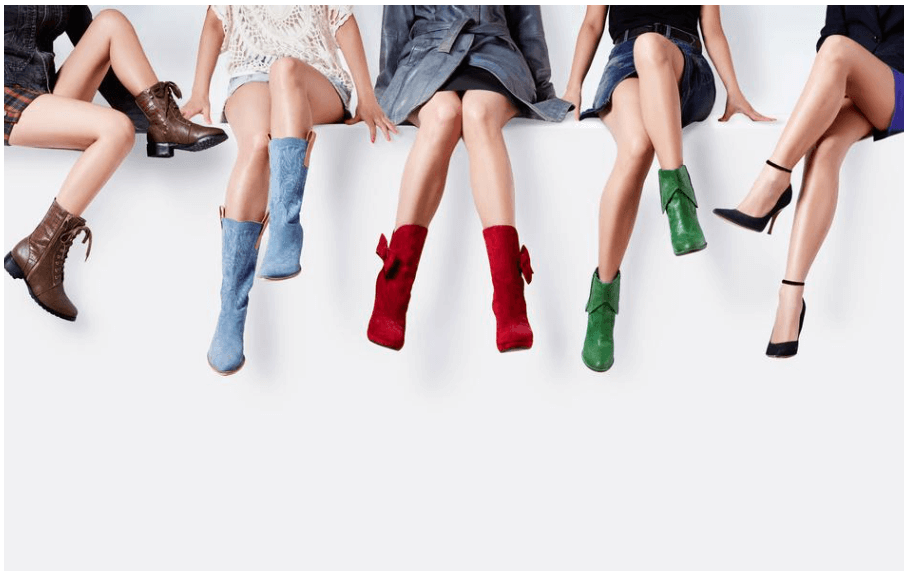 There's a certain kind of fun that comes along with expressing yourself through color. Whether you depict a cozy or moody vibe through dark, warm colors in your home or create art that's bright and loud, it's all an expression of your personality, current feelings or something you enjoy. In addition to surrounding yourself with color, you can also wear it! Of course, colorful clothing is nothing new or particularly groundbreaking, but it's a great way to express yourself in a personal way and add some diversity to your closet. 
A good dose of color is important every once in a while, and it's fun to create unique looks full of different shades. If it doesn't already, your closet should absolutely include a few vibrant colors in addition to classic neutrals and muted metallics. To help you along the way, here are a few tips and tricks for wearing colorful shoe styles for women.
Plan Your Pop of Color
Before you start to put an outfit together, it's important that your colorful shoes pair well with the rest of your look. Take a look at what you have and pull certain pieces of clothing based on the occasion. For example, you might choose a cute women's sundress for a day of shopping and lunch. Before you choose a colorful pair of shoes or accessories to go with your dress, think about the colors that make up the dress. Is it a solid color or a pattern with multiple shades? What is the texture like? Does the material have a sheen to it, a matte finish or something different? Asking yourself these questions makes it easier to add the right pair of shoes. 
Next, you'll want to take a minute to examine your shoe options as well as the type of look you want to create. This is the fun part and it's all up to you! Consider a cohesive look with similar colors or take a single color from your clothing pattern and use that as inspiration. Additionally, you can do some more in-depth color matching by taking a color from your clothing and finding its opposite on the color wheel. If you have a pair of shoes in that color, they will look great with your outfit!
More Tips for Wearing Colorful Shoes
1.Color Code by Season:
While you might think that colorful shoes are mostly worn during the spring and summer months, the truth is that you can wear them all year long! It all depends on what's in your wardrobe and which colors you like to wear. For the summer season, vacation and other warm weather occasions, consider a pair of cute sandals for women in a bright shade of pink, green, blue or yellow. Not only will these colors help you get into the summer spirit, but they can also bring out other shades in your clothing and help you create a cohesive look! 
It's no secret that the fall and winter months are dominated by dark colors, cozy knits and the iconic all-black outfit. However, there's always room for color! Go for a pair of ankle boots or flats in fall-friendly colors like deep reds, navy, emerald green and more. 
2.Keep Them Looking Good:
The great thing about black shoes is that they tend to easily disguise scuffs, stains and wear and tear, whereas colorful shoes are less forgiving. Enter washable shoes for women, the answer to your prayers and the innovation your wardrobe needs. With washable shoes, you don't need to stop everything if a spot gets on your striped espadrilles or colorful heels. Instead, you can relax knowing it will all come out in the wash…literally. 
3.Pair Shoes and Accessories:
If there ever was an actual rule against matching your handbag to your shoes, it's since been removed — meaning you are totally free to use your accessories as inspiration for your footwear and vice versa. It's a great way to bring your outfit together, whether you're looking to spruce up your jeans and a cute top with a pair of comfortable heels for women and a matching clutch or wanting to give a patterned dress a little more groundedness with a pair of sandals and a crossbody bag in the same color.
Wearing color is, ultimately, up to you and what makes you feel great. It's something that's personal yet visible to others, like a snapshot of who you are without saying anything. Simply put, wearing colorful clothing is an art. Rock your colorful clothes, shoes and accessories in any way you like!